Featuring four beautifully restored Sherlock Holmes classics, exclusive special features,
and collector's items so essential to any Sherlockian…it's Elementary!
Limited Time Offer! The shop will only be open from November 2 – November 26.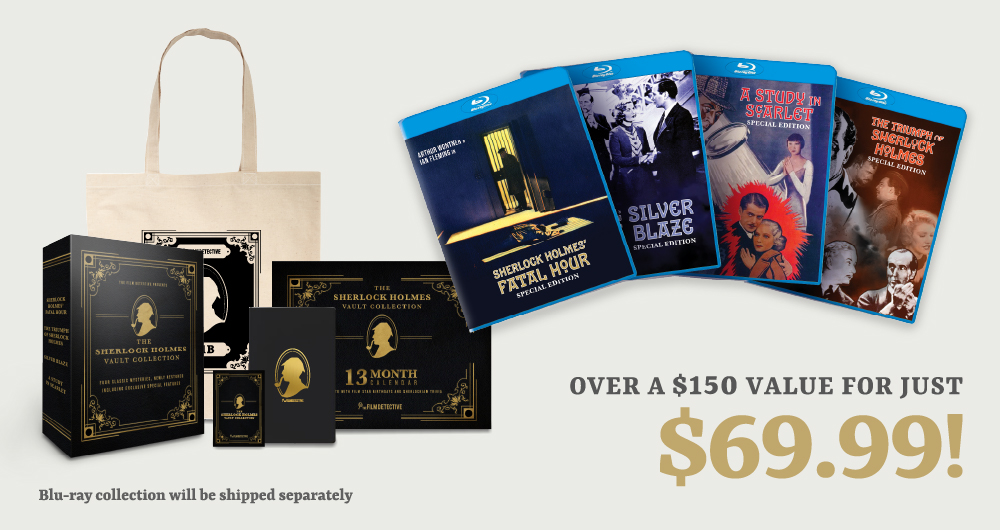 The Sherlock Holmes Vault Collection with four restored classic mysteries and exclusive special features, available on Blu-ray or DVD
13-month Sherlockian calendar, featuring special anniversary dates and fun facts about the history of Sherlock Holmes
Collector's edition Sherlock Holmes magnet
Sherlock Holmes notebook…perfect for jotting down clues!
1-Year Subscription to The Film Detective app to stream more classic mysteries and thousands of classic films and television episodes
Sherlock Holmes Tote Bag to bring all of your gifts with you on your next case!
Three lucky box sets will also include an exclusive, limited edition, Sherlock Holmes custom pipe, courtesy of our friends at Peterson of Dublin.
DVD BOX SET
Sherlock Holmes is on the case! Or in our collection – Sherlock Holmes is on four cases! Fresh from The Film Detective vault, four classic mysteries, all beautifully restored. The Sherlock Holmes vault collection features The Fatal Hour (1931), The Triumph of Sherlock Holmes (1935), and Silver Blaze (1937), starring Arthur Wontner as well as A Study in Scarlet (1933), starring Reginald Owen.
It doesn't take a detective to see this is the BIGGEST collection of bonus materials we've ever released on Blu-ray or DVD. Special features include a host of newly restored Sherlockian shorts; Elementary Cinema, an original documentary by Ballyhoo Motion Pictures; a Radio Recreation of Sherlock Holmes; and three exclusive featurettes with filmmaker and film history icon, Samuel M. Sherman. To top it off, each of the four discs includes its own audio commentary, original film posters replicated as postcards, and a booklet insert with an original essay!